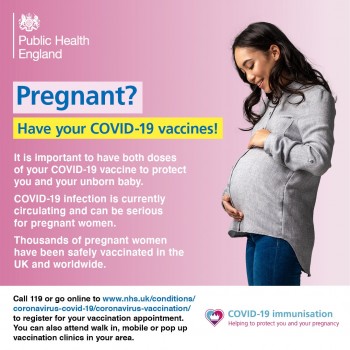 A team from local healthcare provider Nimbuscare is now attending hospital antenatal clinics to offer pregnant women a COVID-19 vaccination, and chat to them about the importance of protecting themselves and their unborn child.
The new service is the latest example of innovative, collaborative working between Nimbuscare, an 'at-scale' primary care provider made up of 11 member GP practices across York, and York and Scarborough Teaching Hospitals NHS Foundation Trust, which runs York and Scarborough Hospitals.
Nimbuscare's Chief Executive Madeline Ruff explained: "In recent weeks it has been well documented in the national media that a significant proportion of those who are currently ill in hospital with COVID-19 are pregnant women who have not been vaccinated. At a local level, we're keen to do all we can to encourage mums-to-be to take up the offer of a vaccine to protect themselves and their baby.
"Our team have found that many of the pregnant women who've visited the York Vaccination Centre at Askham Bar initially have a few questions about the vaccine. However, we've also found that, if our clinicians spend just a few minutes chatting about their concerns and answering their questions, most women then feel sufficiently reassured about the benefits to go on and have a vaccination."
Madeline continued: "By having our teams attend antenatal clinics at the hospital, we hope to prevent more pregnant women from ending up seriously ill in hospital with COVID-19. We're very grateful to York and Scarborough Teaching Hospitals NHS Foundation Trust for supporting and working with us on this initiative, which we hope will help to reduce the number of hospital admissions locally."
Debbie Scott, Maternity Matron for York and Scarborough Teaching Hospitals NHS Foundation Trust, said: "We know that getting the vaccine is the best way to protect you and your baby against COVID-19.  It really is that simple. Hundreds of thousands of pregnant women worldwide have been vaccinated, safely and effectively protecting themselves against COVID and dramatically reducing their risk of serious illness or harm to their baby.
"It's an ideal opportunity at the antenatal clinics to ask questions, get the answer you need and to get the jab."
The team from Nimbuscare visited York Hospital on Thursday and Friday of last week and returned again this week. So far, they have been able to vaccinate around 100 pregnant women.