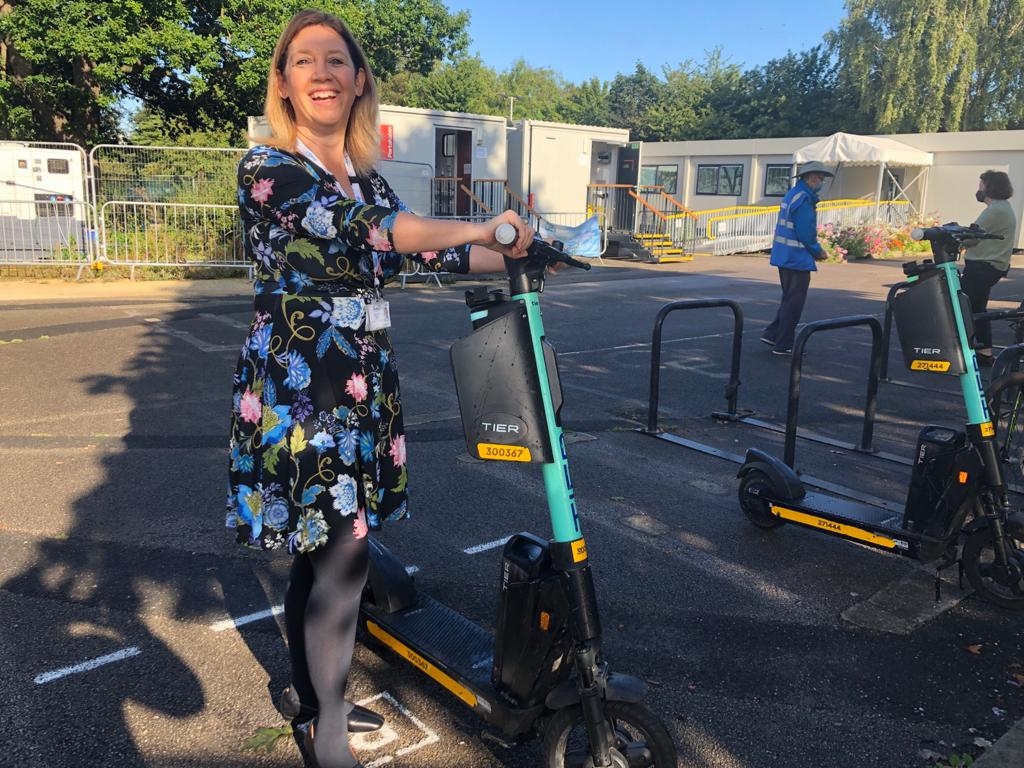 York healthcare provider Nimbuscare has linked up with TIER Mobility and City of York Council to install an e-scooter bay at the York Vaccination Centre at Askham Bar, making it possible for people to travel to work or attend appointments at the site using the environmentally friendly mode of transport.
E-scooters, as well as e-bikes, provided by TIER Mobility are available to hire from locations across York as part of a Department for Transport (DfT) micro-mobility trial that City of York Council is involved in. After making use of the e-scooters to travel around the city themselves, staff and volunteers working at the York Vaccination Centre contacted TIER to ask if a parking bay could be provided at the site as part of Nimbuscare's efforts to promote the use of sustainable transport.
The newly-installed bay will host five to ten e-scooters at any one time and is already proving very popular with staff, volunteers and visitors, with more than 300 e-scooter journeys to and from the site made so far.
To date, 550 e-scooters have been deployed across York and renting one costs riders just £1 to unlock the vehicle and a further 15 pence per minute travelled. Anyone over the age of 18 with a provisional or full driving licence can use them. Anyone over the age of 18 can use them.
Madeline Ruff, Chief Executive Officer for Nimbuscare, said: "It's great to see our staff and volunteers embracing this sort of low-cost, sustainable transport to get around the city. We wanted to make it easier for them, as well as members of the public, to travel to the York Vaccination Centre by e-scooter, particularly now that anyone over the age of 18 is able to walk-in to the Vaccination Centre at any time between 8am and 8pm daily to have their Covid-19 vaccination, but also as we continue to expand and develop the range of healthcare services that we offer from the Askham Bar site."
Jessica Hall, City Manager at TIER, said: "We're very happy to be able to offer York residents a convenient and sustainable way of getting to and from the Vaccination Centre, whilst also offering people a chance to win a free monthly e-scooter pass.
"TIER e-scooters have been hugely popular in York since the scheme launched nearly 12 months ago, and are being embraced by locals and visitors as a greener transport option. We hope that this new initiative will get more people comfortable and confident using them to get around the city."
The TIER team is currently running an Instagram competition that gives e-scooter users the chance to win a monthly pass if they post a photograph of themselves using an e-scooter to go and get their Covid vaccination at the site. They're also making leaflets containing vouchers for free rides available for people who visit the York Vaccination Centre for a jab.