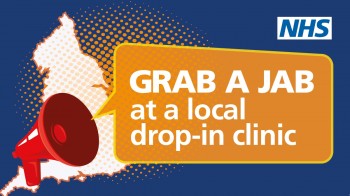 Following on from the success of our recent Pop-Up Covid Vaccination Clinics at locations across the city, we've organised more for the coming days. They will take place on:
Thursday 8 July at York Sport Centre at The University of York (Campus West), from 11am to 4pm. 
Saturday 10 July at Jorvik Gillygate Practice on Stonebow, from 8am until 12.30pm.
Saturday 10 July at Fishergate Primary School, from 9am to 5pm.
The Pfizer and AstraZeneca vaccines are available at the above Pop-Up Clinics, but all three vaccines (Pfizer, AstraZeneca and Moderna) are available at the York Vaccination Centre at Askham Bar, which is open daily from 8am to 8pm.
Anyone over the age of 18 can now go along for their jab, without needing an appointment. You don't need to be registered with a GP or have an NHS number. This applies to anyone attending for their first jab or their second dose (providing they had their first at least eight weeks ago).