Pop-up vaccination clinics:
Pop-up Covid-19 vaccination clinics will take place at the following venues between 17 and 23 January 2022. You can walk in or book online: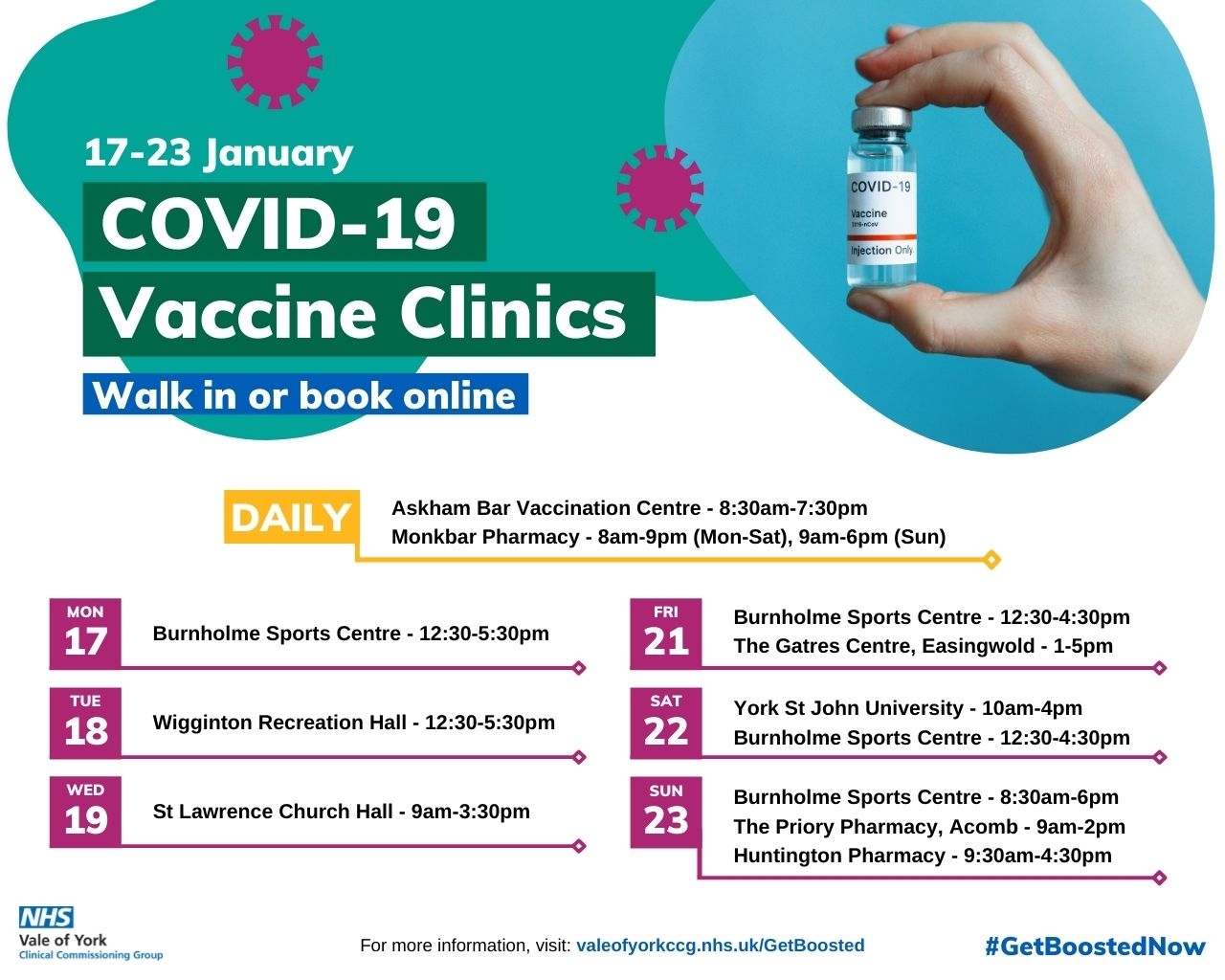 Satellite vaccination clinics in York:
We have set up three satellite vaccination clinics across the City.
You need to book an appointment via the national booking system or by calling 119.
We are offering a walk-in service at all our sites for people wanting a first or second dose vaccination, as well as for people who are immunosuppressed requiring a third primary dose of the vaccine.
The 119 telephone booking service is open from 7am until 11pm, seven days a week. Online booking is also available.

At peak times the phone line is very busy, which may mean waiting on the line for a while or calling back later. You can alternatively book online.

The national phone line (119) will have language interpreters and a BSL facility available on request to help you book your appointments.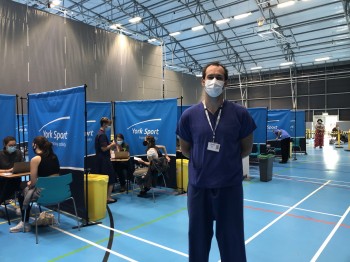 These clinics are at:
Sports Centre, James Way
Heslington
YO10 5NA
Clinic opening times will vary.
Bookable only via nhs.uk
Access to Site:
There is a bus stop within 150m (164yds) of the venue.
The site is conveniently located near the Park & Ride at Grimston Bar bus stop, the number 66 stops right outside of York Sport Village. The site is also easily accessible on foot and by cycle.
Parking is available, as well as disabled access – however we do recommend using public transport or attending by foot, as spaces are limited.
The Village
Wigginton
York
YO32 2PL
Clinic opening times will vary.
Car parking available
Bookable only via nhs.uk
Mossdale Avenue
York
YO31 0HA
Clinic opening times will vary.
Free car parking available
Disabled access
Bus route 11
Bookable only via nhs.uk