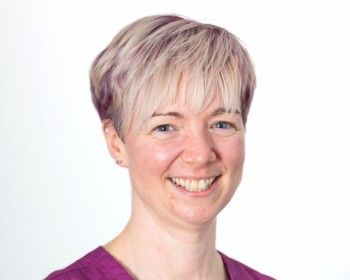 A York nurse who started her career in healthcare as a receptionist at a GP surgery and rose rapidly through the ranks to become a nurse prescriber has been awarded the title 'Queen's Nurse'.
Michelle Phillips, who is local healthcare provider Nimbuscare's Lead Nurse and, as its Director of Quality and Patient Experience, has a place on its board, was informed of the good news this week.
Michelle, who has played a key role in leading York's response to the Covid-19 pandemic, explained that she applied to the Queen's Nursing Institute because she felt that the 'time was right' after facing the unprecedented challenges of the last year.
She explained: "To be considered, you have to have worked in either a community or primary care setting for a minimum of five years. The Queen's Nursing Institute supports innovation and best practice, and I'm proud to have been part of so much innovation during the last year."
Alluding to the fact that it's just over a year since the Nimbuscare team transformed a disused car park at Askham Bar into what was to become one of the largest vaccination centres in the UK, Michelle added: "Our response to the pandemic was really the catalyst for it. Being a Queen's Nurse is about being an ambassador, so it seemed like the right thing to do."
The Nimbuscare team initially began offering winter flu vaccinations from the Askham Bar site but, by December of last year, the focus had switched to delivering both the local and national Covid-19 vaccination services, which meant that the team were soon vaccinating up to 4,000 people each day. Covid and flu vaccination services are still offered at the site, but a host of new services is also being introduced, including preventative health checks for 40 to 74-year-olds and a new clinic for children under five years of age suffering from respiratory problems.
Michelle's role within the team has put her at the very heart of developing Nimbuscare's pioneering response to the pandemic and its innovative approach to delivering healthcare services to local people. She has worked in General Practice in York for her entire career, and is currently a practice nurse at York Medical Group.
Michelle explained: "I started out as a receptionist and then trained to be a Health Care Assistant. I was then supported by the surgery to do my nurse's training and qualified in 2013.
"Being a Queen's Nurse opens up opportunities for me from a learning and development point of view, as well as a network of like-minded people who support one another to champion innovation and clinical excellence."
Congratulating Michelle on her award, Nimbuscare's chair, Professor Mike Holmes said: "Michelle has been absolutely instrumental in our response to the pandemic, she was at the very first flu session that we offered and has been on site almost every weekend since. She and I ran the first Covid taster session last December. She has covered everything, from stocking the pods to vaccinating and consulting about infection control.
"As a valued Board member, she is integral to the continuing evolution of Nimbuscare and the healthcare services that we provide to the people of York, not to mention an absolute credit to her profession." 
"Her career path from GP receptionist to Health Care Assistant to Nurse Prescriber and now to Director level, all whilst bringing up her family, is truly remarkable and I hope she can be an inspiration to all young people in the area. She is a phenomenal role model and we are all so proud to work with her. She is a clear example of why multi-disciplinary leadership in General Practice is so important."
Queen's Nurses are usually invited to attend a ceremony in London, but this year's event is a virtual, online event on 13 December.