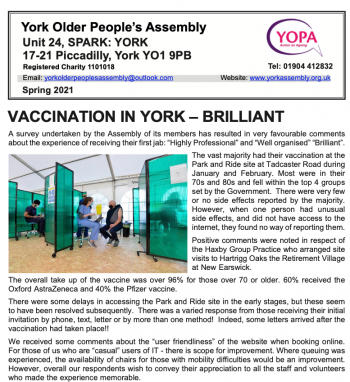 Vaccination in York is 'brilliant'
A survey carried out by York Older People's Assembly (YOPA) found that its members had very favourable comments to make about their experience of receiving their first Covid vaccinations, with comments ranging from 'highly professional' and 'well organised' to 'brilliant'.
According to YOPA's spring newsletter, the vast majority of those surveyed had their vaccination at the York Vaccination Centre at Askham Bar during January and February. Most were in their 70s and 80s and fell within the top four priority groups set out by the Government. The overall take up of the vaccine was over 96 per cent for those aged 70 or older. 60 per cent of those surveyed received the Oxford AstraZeneca vaccine and 40 per cent were given the Pfizer vaccine.
The survey found that few or no side effects were reported by the majority of those surveyed, and that some initial delays in accessing the Askham Bar site seem to have been resolved subsequently. YOPA received comments about the 'user-friendliness' of the website from those booking their vaccinations online, although 'casual' users of IT felt that there was some scope for improvement.
The story in the newsletter concludes: "Overall our respondents wish to convey their appreciation to all the staff and volunteers who made the experience memorable."