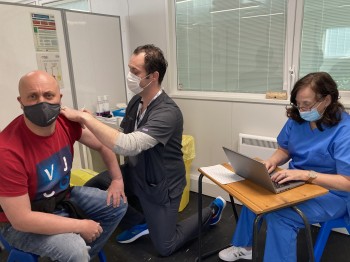 Moderna vaccine arrives in York
The first Moderna jabs are being delivered in England today as the NHS vaccination programme reaches another milestone.
More than 20 sites, including the York Vaccination Centre at Askham Bar, will initially use the newest vaccine, as the NHS continues to expand the vaccination programme.
Mr Gary Parnaby of East Keswick (pictured) was the first person to receive the Moderna vaccine at the York centre this morning from Doctor Nick Bennett.