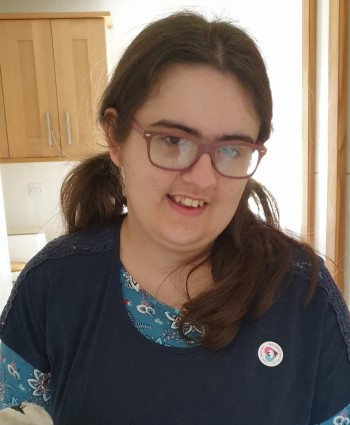 Vaccination service gets a big thumbs up from the Willis family
To mark Autism Awareness Week, which runs from 29 March to 4 April, we'd like to share some positive feedback received from the family of Lucie Willis (pictured), who visited the York Vaccination Centre for a Covid vaccination recently:
Lucie, who has Autism, a learning disability and Epilepsy, had never had an injection outside of the hospital or her dentist's surgery before so her parents, Helen and Mark, were a little apprehensive about how she'd find the visit. Thankfully, all went well and Helen was keen to share details of the family's experience to reassure others who may have similar concerns.
She explained: "I had taken some pictures when I'd had my jab done to help prepare her, but it was still very different to what she is used to. 
Helen continued: "We were guided to our parking spot and immediately told to follow the blue squares to the Portacabin. Inside the staff were exceptionally friendly and directed their questions to both me and Lucie, which was nice. 
"They were very understanding about Lucie having two carers with her in case of a seizure and offered us a quiet space to wait, if needed. As there was no queue  we went straight to a booth, where the nurse explained to Lucie what they were going to do, putting her at ease and chatting to her toy dog, which always goes down well! Lucie was really good and didn't even flinch when she had her jab. She was very pleased with her sticker and, quite rightly, proud of herself for doing so well."
Helen added: "We would like to say a big thank you to all the staff and volunteers that made it such a stress free experience for us all."
Staff and volunteers at the York Vaccination Centre at Askham Bar were delighted to receive such positive feedback from Lucy and get family.