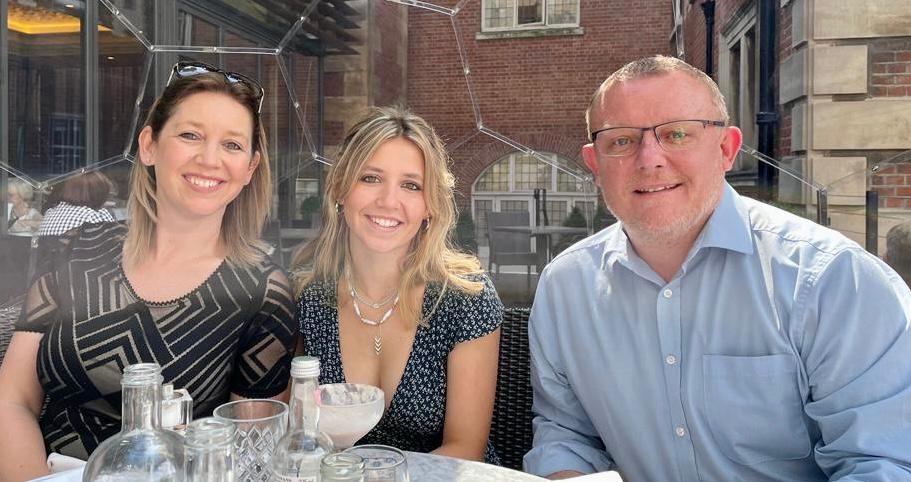 As we celebrate 75 years of the NHS, we focus on some of our team who are part of multi-generational NHS families, asking them why they began a career in the NHS:
MUM: Ellie Holmes, Head of Corporate Affairs & Events, Nimbuscare (previously ENT Nurse, York Hospital) 
DAUGHTER: Phoebe Holmes, Medical Student, University of Liverpool 
DAD: Prof Mike Holmes, Chair of Nimbuscare, Partner Haxby Group Practice, Trustee Chair RCGP, Trustee St Leonards Hospice, Professor York University  
Why we wanted to work in healthcare:
Ellie - Primarily to help people. To care for them and to make the time when they are feeling most vulnerable better. My role has changed over the years however I still feel strongly that I can contribute to a patients wellbeing and healthcare outcomes from my non-clinical position.
Phoebe – Both parents have been my greatest influencers and role models. I am currently a Year 1 Medical Student at the University of Liverpool and although the workload is significant it's where I want to be and l am thoroughly enjoying my time. Currently my interest lies in Population Health however the field of medicine is so vast I am going to make the most of every opportunity – the future is exciting!
Mike – There are so many reasons why I want to worked in healthcare; when I started it was about compassion and caring for people but also about the academic challenge. As I have developed over the years it has become more about developing organisations and other people to care for populations, really importantly ensuring health is equitable for all and supporting change that ensures what we value is sustainable. Of course healthcare is challenging but it has been a phenomenal place to work and as I enter the last third of my career I am sure it will continue to deliver more of the same.